Ah, banned books. And challenged books. You can read my opinion about it in my answer to a
Booking Through Thursday
earlier this year. There's this awesome thing we can do to combat these bans and challenges: Banned Books Week! It's going to be September 24th through October 1st this year. You can read more about it
through this link
.
What can you do during Banned Books Week? One of the suggestions is to, simply enough, read a banned book! You can choose a book from any one of the
lists found on the site
(navigate with links on sidebar, they have them separated by year/author). There are plenty of banned books that I've been wanting to read. I've chosen to read
Sarah Ockler's Twenty Boy Summer
. It was recently banned from some school library shelves. You can read about
this decision here
(and
Sarah's response here
).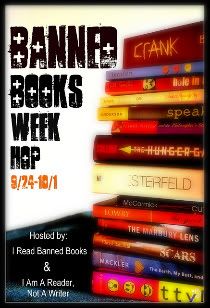 During that week, there's going to be a
Banned Books Hop
hosted by
I Am A Reader, Not A Writer
and
I Read Banned Books
. If you join in the Hop, you need to host a giveaway where you give away a banned book. I'm going to be participating and giving away a banned book of the winner's choice. I'll be coming up with a list of 10 books or so as examples of what you can choose.
I hope you all join in at the end of the month for Banned Books Week. I'm planning on making the most of it this year so that it's extremely fun. ^_^
~Jessica